---
Butadiene compressor manufacturers take you to understand the Process analysis of the Butadiene compressor
---
---
Process analysis: Butadiene compressor manufacturer tells you that the industrial production process of butadiene is mainly divided into two categories. One is to purify the C4 fraction and conduct distillation to obtain high-purity butadiene products. The C4 fraction is subjected to dehydrogenation treatment, that is, the elimination reaction of the C4 fraction is carried out until the butadiene product is obtained.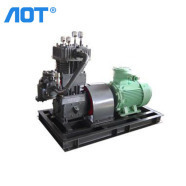 Butadiene compressor manufacturer tells you that the raw materials used in these two production processes are also different, and the most common purification method is extractive distillation. Extractive distillation is to perform extraction first and add an extractant to the reaction system. This extractant can have a great solubility for one of the components to achieve the effect of separation and purification, and then the other mixtures are distilled and purified to separate the other components.
Butadiene compressor manufacturer tells you that in order to optimize the production process of butadiene more reasonably, more advanced production equipment should be adopted, the reflux ratio of the rectification column, the pressure in the column, and the temperature in the column should be strictly controlled, and the production process should be strictly controlled. Further optimization and finding the best parameters can continuously improve the economic benefits of butadiene production.
The above information is the Butadiene compressor manufacturer's introduction of the Process analysis of the Butadiene compressor, hope it helps you.