---
LPG bottle filling manufacturers take you to understand the storage safety of the bottled LPG
---
---
LPG bottle filling manufacturers tell you that the use of bottled liquefied petroleum gas should be known. In daily life, how to safely store bottled LPG? What should be paid attention to when using it? In the following paragraph of this article, the relevant knowledge is sorted out for your reference.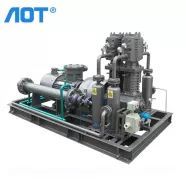 LPG bottle filling manufacturers tell you that bottled liquefied gas should be stored in a qualified supply station, and the operating system should be posted on the wall. The station is equipped with a specified number of fire extinguishers, the bottling warehouse should be equipped with anti-static rubber sheets, and a concentration alarm device should be installed.
LPG bottle filling manufacturers tell you that bottle storage should not be located in the basement or semi-basement of the building, and there should be no underground trenches. The ground in the bottle storehouse should be flat, and the walls of the bottle storehouse should be of concrete or brick structure.
LPG bottle filling manufacturers tell you that empty bottles and heavy bottles should be placed upright in different areas, should not be placed upside down, and should be hung with eye-catching signs. Heavy bottles should be stacked in a single layer, and empty bottles can be stacked in two layers. There should be no less than 800mm aisles between the bottles, and the storage volume should not exceed the approved quantity, which will be checked regularly by special personnel.
LPG bottle filling manufacturers tell you that when working in the bottling warehouse, you should wear anti-static work clothes and anti-smashing shoes, and it is strictly forbidden to bring non-explosion-proof electronic equipment such as mobile phones into the bottling warehouse. Before the cylinders are put into storage, it is necessary to check to confirm that the cylinders are free of air leakage and the cylinder body is not damaged.
LPG bottle filling manufacturers tell you that before the cylinders are delivered to users, leak testing should be carried out. It is strictly forbidden for users to go to the bottle storage platform. After confirming that there is no air leakage, they can be handed over to users to ensure that the registration procedures for entering and leaving the storage are complete and the cylinders are neat.
The above information is the LPG bottle filling manufacturer's introduction of the storage safety of the bottled LPG, hope it helps you.