---
The workflow of the CNG compressor
---
---
The CNG compressor compresses the air pressure, and after the air flows through the separator and filter in the unit, the water, oil, and impurities contained in the high-pressure air are removed, so that the discharged gas is clean and odorless. The gas quality meets the standard, and it is a reliable, safe, and reliable breathing air and high-pressure air supply system.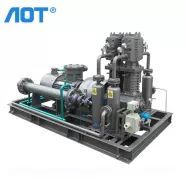 Structure and Workflow. CNG compressor unit is mainly composed of a compressor host, driver (motor), interstage cooler, compressed air separation, purification, and other processing devices, as well as pressure display, regulation, and safety devices.
When the driving machine drives the CNG compressor to work through the V-belt, the air in the free state is sucked into the first-stage cylinder through the intake filter. Compressed to a certain pressure, discharged to the primary and secondary intercoolers and separators, and entered into the second cylinder after cooling and separation of oil and gas.
The air in the CNG compressor is further compressed to a higher pressure and then discharged to the secondary and tertiary intercoolers and separators to cool and filter the oil and condensate in the compressed air, and then enter the tertiary cylinder (III) for compression After reaching the final required pressure, it enters the separator, filter and purifier to further remove oil, condensate and oil vapor in the compressed air, so as to obtain cooled, clean and odorless high-pressure air and fill it into qualified high-pressure steel cylinders for use.
The oil and condensate separated and filtered from the separators behind the cylinders of CNG compressors are regularly discharged out of the machine through the blowdown valve or collected in the dirt tank.
Through the above introduction and analysis of the workflow of CNG compressor, hope it helps you.