---
The important concept about CNG compressors for filling stations
---
---
When confirming the natural gas compression system equipment of the gas filling station, it should operate safely, improve the operational reliability of the components, and conduct the CNG compressor under the premise of power saving, vibration reduction and noise reduction. In-depth exploration. This is very helpful in how to optimize the compressor.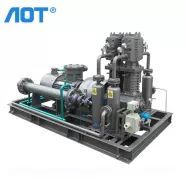 Compressor flow, pressure unit and its conversion: CNG compressor flow is a further definition of the general term, which can be decomposed into two terms: the volume flow of the compressor and the air supply volume of the compressor.
The definition of the volume flow of the dynamic compressor: the volume flow of the CNG compressor refers to the volume value of the gas discharged by the compressor in a unit time under the rated discharge pressure.
This value is measured at the exhaust end and converted to the CNG compressor inlet state, that is, the volume value of the pressure and temperature at the inlet of the first stage of the compressor. This value should also be included in the volume of water separated into steam converted between stages, and the effect of gas compressibility should also be included.
Through the above introduction and analysis of the important concept about the CNG compressors for filling stations, hope it helps you.