---
Application of Wholesale high pressure compressor on sales
---
---
With the rapid development of oil refining, ethylene, chemical fertilizer and other industries in the world, Wholesale high pressure compressor on sales has been widely used in petrochemical processes and occupies a leading position. Especially for the large Wholesale high pressure compressor on sales required in refinery process units, the maximum piston force may be as high as 1500 kN, and the shaft power exceeds 15,000 kW.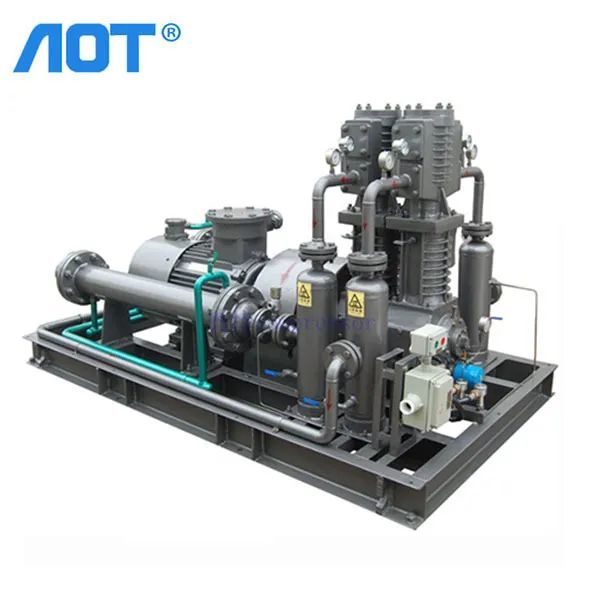 The reciprocating compressors commonly used in the refining process units of Wholesale high pressure compressors on sales are mainly the circulating hydrogen compressors and new hydrogen compressors of catalytic, cracking and reforming units and hydrogenation units, and the coking gas compressors of coking units.
Wholesale high pressure compressor on sales high-pressure hydrogen compressors are difficult to manufacture due to their different scales and process flow, and the corrosion of hydrogen sulfide and other media in the circulating hydrogen compressor, especially the current rapid development of wax oil hydrogenation and residual oil hydrogenation For large-scale high-pressure compressors used in new processes, the maximum piston force has reached 1250 kN, the exhaust pressure is as high as (17~19) MPa, and the gas volume of a single machine exceeds 90000Nm3/h.
Compared with a Wholesale high pressure compressor on sales, the ultra-high-pressure compressor is a type of compressor classified by pressure, and the exhaust pressure is above 100MPa. Its models are available in pistons, membranes, screws, and centrifugal compressors. Ultra-high pressure compressor is generally a kind of booster compressor equipment, which can be divided into two types: horizontal type and vertical type.