---
Lng compressor manufacturers take you to understand some applications of the LNG
---
---
1. LNG as a backup gas source for peak shaving. Lng compressor manufacturer tells you that Lng, as a peak shaving gas source for pipeline natural gas, can perform peak shaving for civil fuel systems to ensure safe and stable gas supply in cities. In many countries, LNG peak shaving devices are widely used in natural gas transmission and distribution systems, which play a role in peak shaving for the volatility of civil and industrial gas consumption, especially for the sharp increase in gas consumption in winter.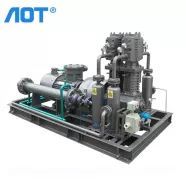 2. LNG fuel for vehicles, compressed natural gas vehicles. Lng compressor manufacturer tells you that LNG, as clean energy for sustainable development, has obvious environmental and social benefits. After replacing fuel with LNG, most of the sulfur dioxide emissions and nitrogen oxide emissions can be reduced, and the environmental benefits are very obvious. High-quality alternative fuel.
Lng compressor manufacturer tells you that according to the different storage methods of natural gas, natural gas vehicles are roughly divided into CNGV (compressed natural gas vehicle), LNGV (liquefied natural gas vehicle), and ANGV (adsorption natural gas vehicle). At present, ANGV-type vehicles are in the development stage. With the popularization of LNG, LNGV vehicles will gradually develop into heavy-duty vehicles, and will partially replace small CNG vehicles and buses.
The above information is the Lng compressor manufacturer's introduction and analysis of some applications of the LNG, hope it helps you.