---
Product introduction of customized reciprocating compressor factory
---
---
A customized reciprocating compressor factory refers to a compressor that periodically changes the volume of the cylinder through the reciprocating motion of the piston or diaphragm in the cylinder and realizes the pressurization and delivery of gas. The customized reciprocating compressor factory is a positive displacement compressor, which is divided into piston type and diaphragm type compressors according to the reciprocating components.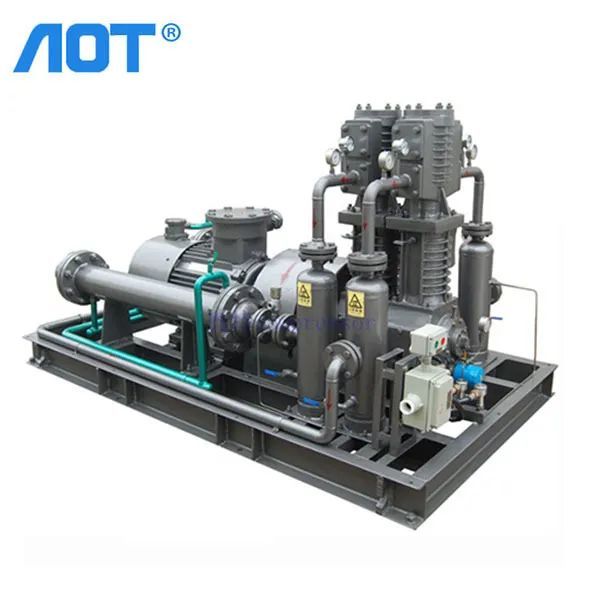 The crankshaft drives the connecting rod, the connecting rod drives the piston, and the piston moves up and down. The movement of the piston changes the volume in the cylinder. When the piston moves downward, the volume of the cylinder increases, the intake valve opens, the exhaust valve closes, and the air is sucked in to complete the intake process;
When the piston moves upward, the cylinder volume decreases, the outlet valve opens, and the intake valve closes, completing the compression process. Usually, there is a piston ring on the piston to seal the gap between the cylinder and the piston, and there is lubricating oil in the cylinder to lubricate the piston ring. A customized reciprocating compressor factory that changes the internal volume of the compression chamber by one or more reciprocating pistons.
At present, reciprocating compressors are mainly piston air compressors, chemical process compressors, and oil and natural gas compressors, and piston air compressors are now mainly developed in the direction of medium pressure and high pressure. This is a screw machine, centrifuge A height that is currently unattainable.
Through the above introduction and analysis of the customized reciprocating compressor factory, hope it helps you.