---
How to operate the discount ammonia compressor safely
---
---
Discount Butane compressor compresses gaseous ammonia, compresses gaseous ammonia into liquid ammonia, and the compressor is piston type, so how does the ammonia compressor operate safely? Inspection before starting the Discount Butane compressor. 1. Check whether the setting value of each automatic protection relay meets the startup requirements.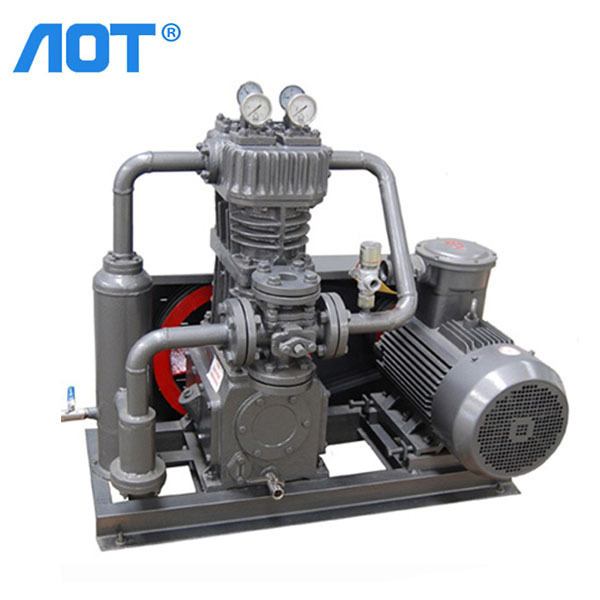 2. Check whether the oil level of the Discount Butane compressor meets the requirements. The oil level should be kept at 1/2~2/3 of the sight glass. 3. Check the status of all valves in the system. The suction shut-off valve, filling valve, and bypass valve should be closed. The valves on other oil and gas circulation pipelines should be opened. Special attention should be paid to all the valves on the pipeline between the compressor exhaust and the condenser must be opened, and the oil system must be unblocked. 4. Check whether the water paths of the condenser, evaporator, and oil cooler are unblocked and whether the regulating water valve and water pump can work normally.
The operation of the Discount Butane compressor. 1. Start the water pump to circulate the water. 2. Open the exhaust shut-off valve, the front and rear valves of the oil filter, and the gauge valve. 3. Turn on the power control switch and observe whether the voltage, control light, and oil level are normal. 4. Start the oil pump. After the operation is normal, open the cooling water valve of the oil cooler. 5. Check whether the energy indicator is at the zero position, and turn the handle of the four-way valve to the unloading position. 6. Start the compressor, open the suction shut-off valve, and observe whether the oil pressure is higher than the exhaust pressure by 0.15~0.3MPa.
7. Increase the load several times and open the liquid supply valve accordingly. If the unit of the Discount Butane compressor runs normally, continue to increase the load to the required energy position, and then move the handle of the four-way valve to the stop position, so that the unit can continue to operate under normal conditions. 8. After the unit is in normal operation, observe and record the suction pressure, discharge pressure, suction temperature, discharge temperature, oil temperature, voltage, and current value on time.
Through the above introduction and analysis of how to operate the Discount ammonia compressor safely, hope it helps you.