---
Dimethyl ether compressor manufacturers take you to understand the Fields of application of dimethyl ether
---
---
Dimethyl ether compressor manufacturer tells you that due to the shortage of petroleum resources, the abundance of coal resources and the enhancement of people's awareness of environmental protection, dimethyl ether converted from coal into clean fuel has been paid more and more attention, and it has become a carbon-one chemical industry with superior performance that has been developed in recent years at home and abroad. product.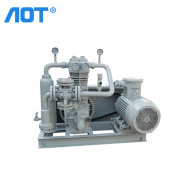 Dimethyl ether compressor manufacturers tell you that dimethyl ether as an alternative fuel for LPG and petroleum, and it is a chemical with similar physical properties to LPG, which does not produce environmentally damaging gases when burned, and can be produced cheaply and in large quantities.
Dimethyl ether compressor manufacturers tell you that as a new basic organic chemical raw material, dimethyl ether is widely used in pharmaceutical, fuel, pesticide and other chemical industries due to its good characteristics of easy compression, condensation and gasification, it has many unique uses.
The above information is the Dimethyl ether compressor manufacturer's introduction of the application field of dimethyl ether, hope it helps you.