---
Type and composition of Vinyl chloride compressor
---
---
The common Vinyl chloride compressors are reciprocating compressors, screw compressors, centrifugal compressors, etc.
The screw-type Vinyl chloride compressor can be divided into two types: single screw compressor and twin screw compressor.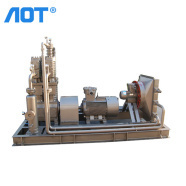 The twin-screw Vinyl chloride compressor belongs to the category of positive displacement compressors, which uses the principle of increasing the gas pressure by changing the volume of the gas. Its main components include a pair of intermeshing male and female rotors and casings, as well as auxiliary components.
The twin-screw Vinyl chloride compressor is widely used in the field of air compression and process compression due to its simple structure, easy installation, easy maintenance, good stability, and long service life.
The twin-screw Vinyl chloride compressor is one of the most advanced vinyl chloride compressors, and is gradually replacing the reciprocating vinyl chloride compressor.
Through the above introduction and analysis of the type and composition of Vinyl chloride compressor, hope it helps you.