---
Some product features of the Biogas compressor
---
---
Biogas compressor is a new product of our company. It integrates a compressor, gas-liquid separator, safety valve cooler, electric motor, etc. into a complete unit.
The biogas compressor has the characteristics of multiple functions, small size, lightweight, low power, stable and reliable operation, and good safety performance. It transports hydrogen and can create economic benefits for users.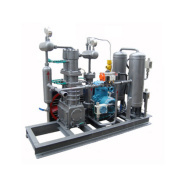 Because the biogas compressor adopts a common oil-free lubrication design, the cylinder does not need to be lubricated with oil, so it will not pollute the medium and keep the transported material pure.
The biogas compressor is planned into a unit type, and many accessories on the pipeline are installed on the unit, eliminating the need for gas-liquid separators, pressure stabilizers, safety valves, intake filters, etc., reducing the area of ​​the machine room and reducing operation protection. The workload of biogas compressor is relatively large, which can save more investment.
What is a compressor:
The biogas compressor manufacturer tells you that the machine used to compress the gas to increase the gas pressure is called a compressor, also known as a "compressor" or "air pump". Generally, when the lifting pressure is less than 0.2MPa, it is called a blower, and when the lifting pressure is less than 0.02MPa, it is called a ventilator.
Through the above introduction and analysis of some product features of the Biogas compressor, hope it helps you.