---
The role of the biogas compressor
---
---
In the following paragraphs of this article, will introduce the role of the biogas compressor to you.
The biogas compressor is a compressor specially designed for biogas, which can improve the insufficient pressure of biogas, make the biogas burn more fully, and have more firepower.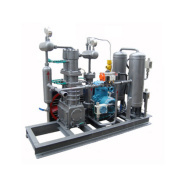 Due to the negative pressure effect of the pump of the biogas compressor, the gas production of the biogas digester is more sufficient, and it is widely used in various biogas digesters and long-distance transportation of biogas.
Biogas compressor application: biogas utilization in farms, sewage treatment plants, etc., biogas purification CNG application, biogas booster power generation, etc.
The Biogas compressor is driven by low-pressure gas from a large-area piston to generate high-pressure gas on a small-area piston.
Biogas compressor can be used for compressed air and other gases, and the output air pressure can be adjusted steplessly by driving the air pressure.
Through the above introduction and analysis of the role of the biogas compressor, hope it helps you.