---
The features of the biogas compressor
---
---
In the following paragraphs of this article, will introduce the features of the biogas compressor to you.
The biogas compressor is a compressor specially developed and planned for biogas. It can not only improve the lack of biogas pressure, but also make the biogas burn more fully and have greater firepower.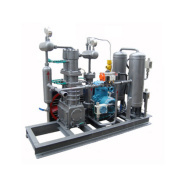 Because of the negative pressure effect of the exhaust pump of the biogas compressor, the intake air in the biogas digester is more sufficient, and it is widely used in various biogas digesters and long-distance biogas transportation.
Some features of biogas compressors: 1. Oil-free and smooth, clean and pollution-free. 2. High efficiency and low energy consumption. 3. High reliability, can run continuously for 24 hours. 4. The unit adopts an air-cooled or water-cooled type to reduce installation costs. 5. Compact structure, low operation, and maintenance cost. 6. Select anti-hydrogen sulfide corrosion treatment technology.
Biogas compressor application: biogas utilization in farms, sewage treatment plants, etc., biogas purification CNG application, biogas booster power generation, etc.
Through the above introduction and analysis of the features of the biogas compressor, hope it helps you.