---
Compressor manufacturers take you to understand the butadiene compressor
---
---
A butadiene compressor is a kind of equipment for compressing and conveying butadiene gas.
Because butadiene is a highly dangerous substance, the sealing, and safety requirements for butadiene compressors are relatively high.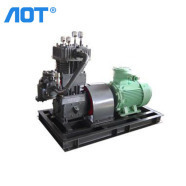 The butadiene compressor usually adopts the piston-type principle and is driven by a motor to achieve the purpose of oil-free lubrication.
The role of butadiene compressor:
1. The Butadiene compressor manufacturer tells you that butadiene uses a pressure tanker, so if you don't pressurize it, the pump will be unclean. It should be pumped to negative pressure, and butadiene will be vaporized, so this compressor can be used to pump clean.
2. The Butadiene compressor manufacturer tells you that it should be cleaned, otherwise the high temperature will cause the material to polymerize in the pipeline.
3. The parameters of the butadiene compressor can be provided according to the customer's needs, which ensures that the butadiene gas will not cause a great temperature rise when pressurizing the butadiene gas.
The above information is the compressor manufacturer's introduction of the Butadiene compressor, hope it helps you.